YOSEMITE By Any Name is Still the PEOPLE'S PARK

A critical appreciation, and a review of former Yosemite Superintendent Robert Binnewies' new book, Your Yosemite: A Threatened Public Treasure

BOOM: A Journal of California
June 16, 2016

Copyright © 2016 University of California Press

This article is republished here with the permission of the University of California Press.
Please address any requests to republish this article to the University of California Press.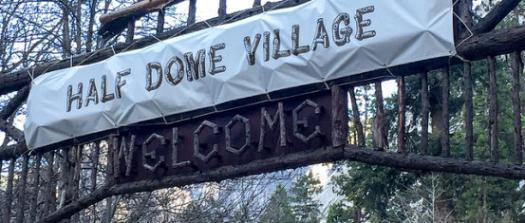 They may change the names, but they can't take Yosemite from us.

Or can they?

I've come back to Yosemite regularly since I was a young California kid in the 1950s. Yosemite never disappoints, as one of my friends says, though it is becoming increasingly difficult and expensive for some of us to experience Yosemite.

I've camped in many of the park's campgrounds, stayed in Camp Curry's tent cabins, played cards in the Ahwahnee Hotel lobby, spent New Year's Eve in a cheap room in the Wawona Hotel, and nearly frozen to death in a camper in the parking lot of Yosemite Lodge.

All those names have been changed and, still, Yosemite endures. But how long will the Yosemite experience be accessible for an average Californian, visiting on the cheap what seemed our park but seems increasingly less so now, even as the valley is crowded for another high season in the Sierra?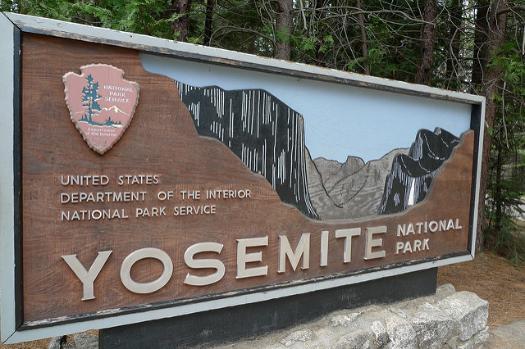 Photograph by Flickr user mjmonty
The problem with names in Yosemite did not start with the Delaware North corporation and their now infamous trademark claims. It started when the valley's indigenous people were pushed out and the profiteers moved in.

In 1851, a group of white militiamen calling themselves the Mariposa Battalion, led by the aptly named James D. Savage, invaded what is now known as Yosemite Valley. They came on a mission of conquest, aiming to either remove the local natives or exterminate them in order to make the surrounding territory safe for miners, settlers, and profiteers.

The militiamen mostly focused on rounding up Indians and burning their homes and caches of food. But a few militiamen were impressed with the scenic wonders of the valley and took the time to name them. The first thing they had to name was the valley itself. The Indians called the valley Ahwahnee — at least that is how it was rendered in English. Ahwahnee has been variously translated as "Deep Grassy Valley" or as "Place of the Big Mouth." But the invaders wanted to treat the place as their own, so they renamed it Yosemite. The etymology of the name remains in dispute, but it has stuck.

Many years later in 1927, when a certain majestic hotel was named the Ahwahnee, it was without any payment to the people who named the valley. It took a certain corporate entity named Delaware North to make a monetary claim to the original name of the valley nearly a century later.

At one point in the war waged by the Mariposa Battalion, an encampment of Indians was found on a lake northeast of the valley, not far from what is now known as Tuolumne Meadows. The militiamen told Chief Tenaya, the leader of the group, that they were going to name the lake in his honor. Tenaya protested that the lake already had a name. "We call it Pyweack," he is reported to have said, as he pointed to a group of nearby glistening peaks and told the militiamen that the name meant the lake of shining rocks. The militiamen had other shiny rocks in mind, particularly gold. They disregarded Tenaya's claim to name the lake.

Nobody ever found gold in Yosemite Valley, not in the ground anyway. But it did not take long for profiteers to realize that there was money to be made from tourists here. Long before there were any roads, even wagon roads, there were gutsy tourists ready to take a long and difficult saddle ride to see the old haunts of Tenaya's people — and they had money to spend.

One of the first hotels to be set up, in 1858, was called the Upper Hotel, built near Yosemite Falls. In 1864, the Upper Hotel was taken over by James Mason Hutchings and renamed Hutchings House.

The ensuing struggle over Hutchings House was the beginning of the legal battles over property and names in Yosemite.

Neither Hutchings, nor those who preceded him, nor any of the other hoteliers in Yosemite Valley ever paid for the land they appropriated. In the spirit of the day, the land was there for the taking by homesteaders. It wasn't until 1864, when President Abraham Lincoln signed the Yosemite Grant Act, that ownership of the land became an issue. The Yosemite Grant Act set aside Yosemite Valley and the Mariposa Big Tree Grove to be managed by the state of California "for public use, resort, and recreation… inalienable for all time," although "leases not exceeding ten years may be granted for portions of said premises."

Hutchings and other squatters in the valley took umbrage at the idea that they did not own the land on which they operated. They mounted a legal challenge to the new state of affairs, a case that went all the way to the US Supreme Court. In 1872, the court ruled that Hutchings and his allies had no valid claims to the land.

Robert Binnewies, a former park superintendent at Yosemite who recently wrote a book entitled Your Yosemite: A Threatened Public Treasure, states:

"[While] Hutchings was reduced from presiding as presumptive landowner of… some of the most prized scenic real estate on earth to becoming a tenant functioning under permit at the pleasure of the [State] Board of Park Commissioners… this stalwart trailblazer was not left empty handed. He was compensated by the State of California for the structures and bridges he had constructed, receiving $24,000 [a princely sum in those days] and the right to continue to operate his hotel as a public benefit, a decision that set the stage for concessionaire services in national parks that continues to this day."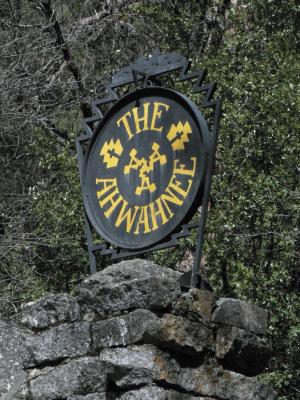 Photograph by Christina B Castro, via Flickr
That was no small precedent. It established the right of private, profit-seeking concessionaires to operate in national parks. It ultimately brought Delaware North to Yosemite. It also laid the foundation for the current dispute between Delaware North, the park's new concessionaire Aramark, and the National Park Service over naming rights in the park.

Binnewies's book is full of insights into the history of Yosemite, particularly commercial development in the park. Binnewies, who was superintendent between 1979 and 1986, describes Yosemite Valley as "the seat of the largest commercial operation in any national park, anywhere in the world." He writes that there is "a constant push by commercial vendors for more profit centers" and "a constant resistance by park administrators and environmental advocates to further development."

Ed Hardy, head of the Yosemite Park and Curry Company, is the chief villain in Binnewies's story. "Hardy's responsibility was to maximize profits for his corporate employer," writes Binnewies, "while mine was to maximize preservation for my public employer; the scale on which our conflicting agendas rested was unsteady."

Mixing his metaphors, Binnewies later writes, "Hardy and I were in the same canoe but attempting to paddle in opposite directions, making it difficult to avoid capsizing."

Hardy had come to Yosemite several years before Binnewies when the Music Corporation of America bought the Curry Company in 1973. MCA was a holding company that was involved not only in the music recording industry, but also in film by virtue of its ownership of Universal Pictures. MCA had additional holdings in television, book publishing, and more.

As Binnewies described it, the Curry Company was now managed "from afar, sometimes by executives who never had or would visit Yosemite." One of Hardy's first moves was to propose an aerial tramway from Yosemite Valley to Glacier Point, "allowing customers to be dramatically levitated through 3,000 feet of airspace amidst breathtaking scenery," writes Binnewies. According to Hardy, this would be a means of providing alternative transportation that would relieve visitors from their dependence on automobiles. The tramway also would have transported guests to a rebuilt Glacier Point Hotel, which had burned down in 1969.

Neither of these proposals ever got significant traction, but MCA had more plans. Their next "gambit to cash in on Yosemite" was a television series entitled Sierra, featuring "crime-busting Yosemite Rangers," Binnewies writes. The production crew, "not liking the natural color of some rocks in a scene shot in Yosemite, decided to paint them." Mercifully, the show lasted only three months, so the damage was limited.

The funniest story Binnewies tells about his time in Yosemite is about a visit by James Watt, Ronald Reagan's Secretary of the Interior from 1981 to 1983. When visiting Yosemite in 1982. "Watt made clear that he always wanted me by his side when photos were taken," Binnewies writes. "He knew of the good image that park rangers had nationwide and wanted to be so associated, but only for the photo opportunities." When Binnewies tried to talk to Watt about development in the valley, "Watt quickly cut me off by saying 'the more hotels, the better — fill up the whole valley.'"

The Curry Company didn't just want to fill the valley with hotel rooms. It wanted wilderness areas drawn so that the rim of the valley would also be open to development. Imagine standing in Yosemite Valley today and looking up at hotels and restaurants on the rim. The Curry Company also wanted to expand the area on which the High Sierra Camps in the Yosemite backcountry stand, from about two acres to thirty acres each, "allowing the tiny camps to ultimately morph into alpine villages of a sort."

All these plans were defeated eventually, and Binnewies tells the tale well, including the decisive interventions of the late, great Congressman Philip Burton. In the end, however, this reader was left wondering about the stories Binnewies didn't tell, the names left unnamed.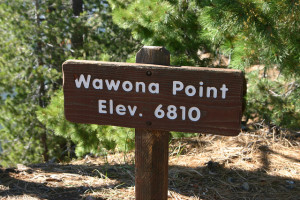 Photograph by Ray Krebs, via Flickr
Another author who has written a lot about Yosemite, historian Alfred Runte, complains about how in 1983, near the end of Binnewies's time in Yosemite:

"A spacious lounge at Yosemite Lodge was gutted, subdivided, and wholly replaced by a $262,000 bar, conference meeting rooms, and lodge store annex… Park Superintendent Robert Binnewies further applauded its brightness and spaciousness, noting that for once problem drinkers would be 'forced into the light.' The old location, he explained, was very cramped and too dark, making it difficult for park rangers to monitor everyone's behavior."

I remember that lounge the way it used to be — a space where visitors could warm themselves by a fire without having to buy anything — and what it became: one more "profit center," as Binnewies describes it in his book.

Binnewies eventually capsized himself. In 1986, he was transferred out of Yosemite to a new post in the park service when it was revealed that he had secretly recorded a conversation with Chuck Cushman, a property owner in Wawona, who went on to found the American Land Rights Association, a national organization dedicated to "protecting private property rights" inside national parks and on other federal lands.

Binnewies eventually left the park service but remains passionate about Yosemite. Today, he serves on the advisory board of Restore Hetch Hetchy, a group working to remove a dam and reservoir that filled a valley in the park said to be the equal of Yosemite Valley before it was destroyed to provide water storage for San Francisco.

In his book, Binnewies relates the events that brought Delaware North to Yosemite after he left.

In 1990, a Japanese company, Matsushita Electric Industrial Company, bought MCA. Matsushita, now known as Panasonic, is one of the largest consumer electronics firms in the world. This created a furious, chauvinistic uproar about Yosemite concessions being managed by a foreign company. Matsushita agreed to sell the Curry Company, including about 800 buildings, to the nonprofit National Park Foundation for $49.5 million.

The deal transferred all Curry Company assets to the National Park Service. This meant that ownership of all the hotels, restaurants, and associated concessions in the park became public property. This could and should have been an opportunity for the National Park Service to take direct control of almost all of the commercial activities in Yosemite National Park. Why not run Yosemite accommodations for the benefit of visitors and the public at large, instead of the benefit of a handful of corporate profiteers?

Instead, a "nonprofit idea was sparked to life," Binnewies writes. Conceding that there should be competition among nongovernmental entities for the right to run Yosemite's accommodations, an impressive group of movers and shakers put together a bid for a concession contract to be managed by a new nonprofit called the Yosemite Restoration Trust Services Corporation.

The National Park Service under President George H.W. Bush ruled that the Yosemite Restoration Trust Services Corporation was "not qualified" for the contract, Binnewies writes, "supposedly due to a lack of sufficient cash in the bank and no prior resort-management experience." The Bush administration "was not wresting the [Curry Company] contract from Matsushita in order to convert National Park Service concession activities to not-for-profit status… [The administration] was simply eager to pass along those activities at Yosemite to the next private vendor and the next group of shareholders."

Delaware North won the contract.

The roots of today's fight over Delaware North's claim to own the trademark rights to Yosemite place names — including the Ahwahnee Hotel, Yosemite Lodge, Curry Village, the Wawona Hotel, Badger Pass, and even Yosemite National Park itself — lie in the fine print of that contract.

But a dispute over names, as revealing and irksome as it may be, is only a sideshow to the real issue involved in the commercialization of Yosemite. The real issue is why our national parks are used as profit centers for private corporations in the first place.

In the words of Alfred Runte, the "fundamental flaw" in how Yosemite is run is "the privatization — for profit — of the sale of food, lodging, supplies, and transportation to incoming visitors."

In March 2015, Derrick Crandall, a spokesman for the National Parks Hospitality Association, an organization that represents concessionaires, told the online National Parks Traveler that there is "an opportunity to enhance the ability of visitors to enjoy the park experience."

How? The one concrete example Crandall gave was this: "…when you look at Yosemite Valley, and you have 1,500 rooms [including tent cabins]… I'm not afraid to say at some point we should look at how we upgrade those rooms so that 1,500 rooms have 1,500 bathrooms."

Crandall's math is a little suspect. According to the National Park Service, there are only 1,053 "lodging units" in Yosemite Valley, plus 640 campsites, not Crandall's 1,500 rooms.

But you get the idea. It is not more bathrooms that Crandall and his constituents want. It is more hotel rooms. They don't care about tent cabins, bathrooms, or visitors who may not be able to pay hotel rates. What they really want are more customers with more money to spend.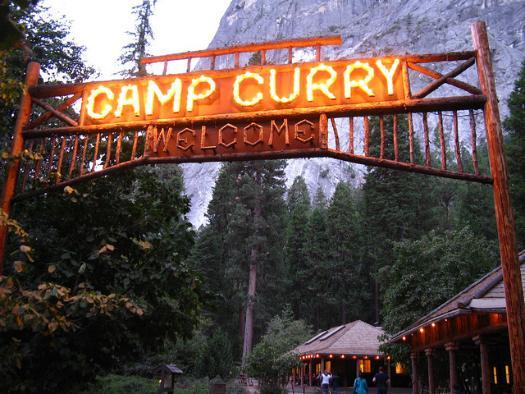 Photograph by Flickr user Jasperdo
Crandall also testified before a House subcommittee last year that the National Park Service should allow "dynamic pricing of services" — that is, higher charges for visitors at times of higher demand — in order to "increase franchise fees to the NPS by 50 percent within three years" and, not coincidentally, provide bigger profits for concessionaires.Chris Belland, CEO of Historic Tours of America, told the same House subcommittee, "Recreation and tourism are a trillion dollar industry, and national parks are widely regarded as a top asset of this industry."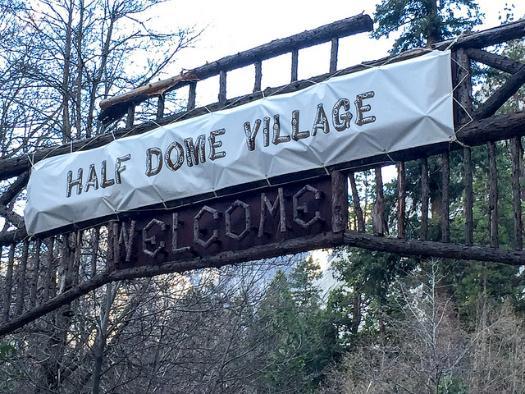 Photograph by Flickr user Chris D 2006

Just how and when did our national parks become an asset of industry?

The concessionaires are not the only ones who have dollar signs in mind. The National Park Service developed a plan to tear down the 245 rooms at Yosemite Lodge and replace them with 440 units in four new three-story structures, plus a new parking lot for 395 more cars. The same plan called for all of the tent-cabins in Curry Village to be replaced with permanent lodging. This plan was called Alternative 6 in the Merced River Plan, adopted in 2014.

The park service created Alternative 6 for the Merced River Plan and then rejected it in favor of Alternative 5, which calls for replacing fifty-two tent cabins in Curry Village with new hard-sided "cabin/hotel rooms" in two-story structures. This plan has gotten little publicity, but it could change Curry Village much more than renaming it "Half Dome Village."

John Muir once wrote:

"Nothing dollarable is safe, however guarded. Thus the Yosemite Park, the beauty, glory of California and the nation, Nature's own mountain wonderland, has been attacked by spoilers ever since it was established, and this strife, I suppose, must go on as part of the eternal battle between right and wrong."

And, yet, even in 1880, a visitor to Yosemite named Lieutenant Colonel William Francis Butler could observe:

"They have written much about it; they have painted and photographed it many times. They have made roads and bridle-paths to it, built hotels and drinking saloons in it, brought the cosmopolite cockney to it, excursioned to it, picnicked in it, scraped names upon its rocks, levied tolls by its waterfalls, sung Hail! Columbia beneath the shadows of its precipices, swallowed smashes and slings under its pine-trees; outraged, desecrated, and profaned it, but still it stands an unmatched monument hewn by ice and fire from the very earth itself."

Yosemite never disappoints — by any name. Be sure to visit while you still can.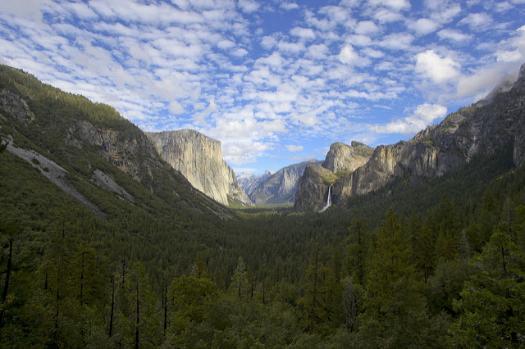 Photograph by Flickr user TVZ Design