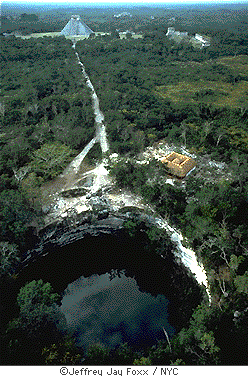 Chichen Itza was one of the most prominent Maya cities in the Postclassic period.

Chichen Itza has been translated as
"the mouth of the well of the Itza." The
"Well of Sacrifice" is reached by a causeway leading from the city plaza.

Into this well the Maya "cast men alive
as a sacrifice; and also other precious objects."(1)

The well "remained a pilgrimage center
until after the Spanish Conquest."(2)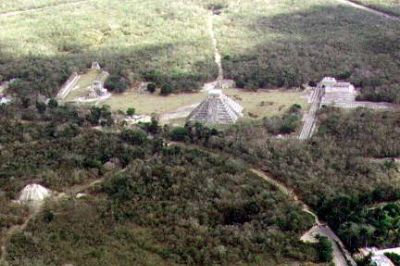 (left)
A view of the plaza at Chichen Itza.

The causeway to the Well of Sacrifice can be seen above the central pyramid.

The Great Ballcourt is on the left, and the Temple of the Warrior on the right.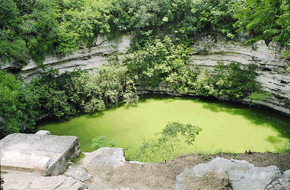 (right)
Close-up view of the well, "seven long fathoms deep to the surface of the water, more than a hundred feet wide, round, of natural rock marvelously smooth down to the water...
it is very deep."(3)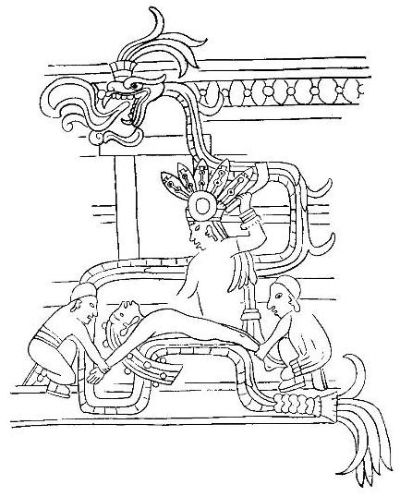 (right)
Line drawing of a scene of human sacrifice, from a wall painting in the Temple of the Warriors.(4)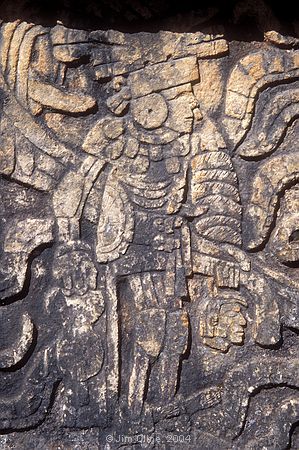 (left)
Warrior holding head of enemy,
Chichen Itza.

Photo
Copyright © 2004
Jim Cline.(5)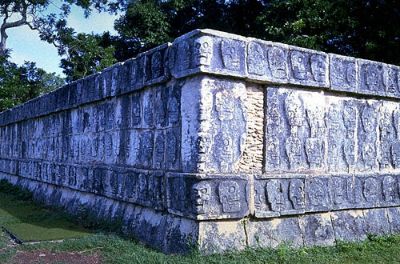 (left)
Tzompantli,
or skull rack,
at Chichen Itza,
used for the display of human skulls.

Photo
Copyright © 1999 Philip Baird.(6)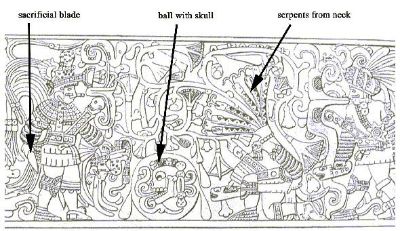 (left)
Drawing of a wall at the Great Ballcourt. "The figure to the left of the skull ball holds a sacrificial blade and the head of a decapitated player, who at the right kneels with serpents spewing from his severed neck."(7)

NOTES:
(1) de Landa, Friar Diego, "Yucatan Before and After the Conquest,"
Dover Publications, 1978
(2) Coe, Michael D., "The Maya - 7th Edition," Thomas & Hudson, 2005
(3) de Landa
(4) Morris, Earl Halstead, et al., "The Temple of the Warriors,"
Carnegia Institution of Washington, 1931
(5) www.jimcline.com
(6) www.anthroarcheart.org
(7) From a report submitted to FAMSI by John L. Machado, Jr.,
www.famsi.org/reports/00035/index.html. See Figure 20.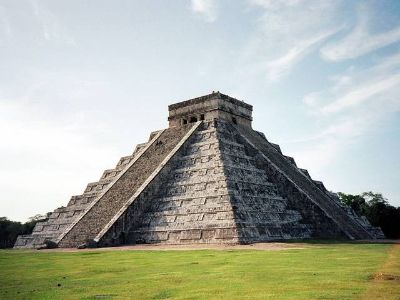 (right)
Central pyramid
at Chichen Itza.