These links are to the Maya Vase Database,
an archive of "rollout photographs" created by Justin Kerr.
These are photographs of scenes on Maya vases, "rolled out" to flat images.

The Kerr database is on the website of the
Foundation for the Advancement of Mesoamerican Studies, Inc.

All of the listed vases show scenes of human sacrifice,
including heart extraction and decapitation.

Kerr number 680
Kerr number 928
Kerr number 1082
Kerr number 1377
Kerr number 2025
Kerr number 3059
Kerr number 5454
Kerr number 8351 > This is the vase pictured in "Apocalypto and its Critics," shown below.
Kerr number 8684
Kerr number 8719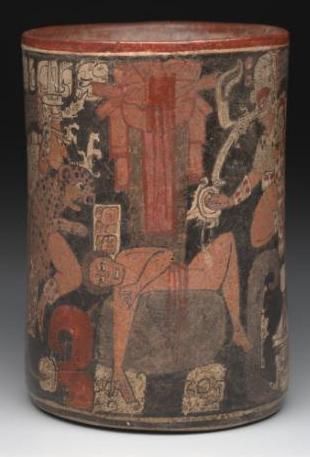 Additional vases:

Kerr number 511
Kerr number 638
Kerr number 718
Kerr number 1003
Kerr number 1116
Kerr number 1229
Kerr number 1256
Kerr number 1490
Kerr number 2695
Kerr number 2781
Kerr number 8738