Beyond Chron
June 26, 2009

Copyright © 2009 Marc Norton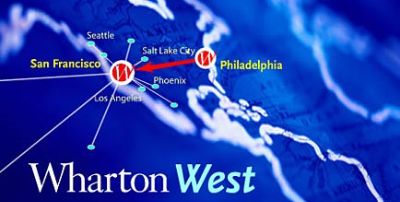 At first blush, the Wharton School, based at the Ivy League University of Pennsylvania, does not seem likely to be a factor in San Francisco politics. But Wharton, founded in 1881, billing itself as the "world's first collegiate business school," also has an outpost in our City by the Bay. Located "near the heart of
San Francisco's business district" in the historic Folger Building at 101 Howard,
Wharton San Francisco "extends the reach of the School's programs... to the western
U.S. and Pacific rim countries" for students aiming at careers as business executives.

Wharton San Francisco also frequently breaks the worker-called boycott of the
HEI Le Meridien hotel, where they regularly book large blocks of rooms for their
budding executives.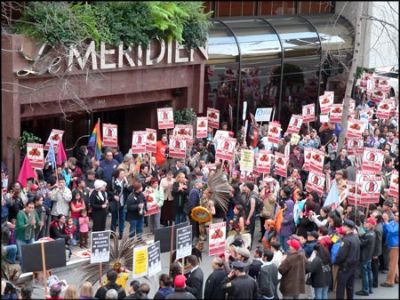 Just over a year ago, a brave and determined group of workers at the luxury hotel launched an organizing campaign, seeking a fair process that will allow employees to freely and democratically decide -- without interference from management -- if they want to affiliate with UNITE HERE Local 2.

Stonewalled by management for months in their quest for some semblance of economic justice, the workers and the union called for a boycott of the hotel, starting last February.

Wharton doesn't seem to care. They continue to book rooms at the hotel, despite pleas from workers to honor their boycott. Wharton has rebuffed several worker-led delegations, even after the hotel "laid off" three members of the union organizing committee without any regard for their seniority. It appears that Wharton management believes that trampling on the rights of workers is an essential part of the education of business executives.

But there may be more involved here than mere management sympathy with keeping workers in thralldom. Documents provided to UNITE HERE indicate that the University of Pennsylvania owns a chunk of HEI Hotels and Resorts, through investment funds that HEI manages. Thus Wharton San Francisco is actually creating profits for its mother ship in Pennsylvania by breaking the HEI Le Meridien boycott. Other Ivy League universities are also heavily invested in HEI, including Harvard, Princeton, Yale and Dartmouth, as well as Notre Dame, Vanderbilt, the University of Chicago and the University of Michigan.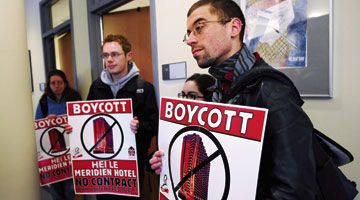 This doesn't sit well with some students at Penn, as it is affectionately known by the social elite to which it generally caters. These students have organized the Student Labor Action Project (SLAP). They want the university to manage its investment funds in a more responsible manner, rather than be a party to the daily exploitation of room cleaners, dishwashers, cooks, servers and other hotel workers. SLAP also has chapters at other universities, including Yale and Harvard. Last November Yale students staged a sit-in at the Yale Investments Office, protesting HEI investments.

As is the trend with such struggles, the action doesn't fit into any neat, little boxes. HEI is one of the fastest growing hotel management companies in the country. UNITE HERE has organizing drives in progress at two other HEI hotels -- the Hilton Hotel in Long Beach, California and at the Sheraton Crystal City Hotel in Arlington, Virginia. The Le Meridien hotel brand is marketed by Starwood Hotels and Resorts, which also markets St. Regis, Westin, and W Hotels, among others. It is indeed a tangled corporate web that hotel workers find themselves in these days. The class struggle seems to know no bounds.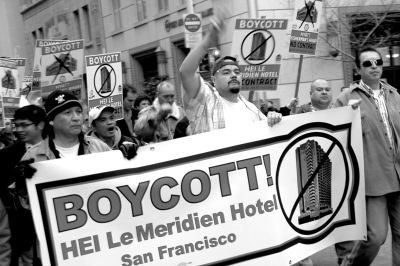 And that is why I found myself inside Wharton San Francisco's Folger Building campus a couple of weeks ago, handing out leaflets to passing MBA students, as other Local 2 workers unfurled a banner, security hovered nearby, all the while a Wharton executive nervously asking if we had an appointment -- which we definitely did not. Later, we stood outside the entrance to the building, bullhorns blazing, while a double-deck open-top tourist bus rambled by, on their way to and from who-knows-which hotels, carrying tourists hurriedly snapping pictures of a genuine San Francisco labor protest to show to their friends and relatives all over the world.

Wharton, Wharton, you're no good. Get out of the HEI Le Meridien like you know you should!