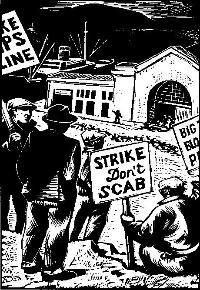 Beyond Chron
August 30' 2006

Copyright © 2006 Marc Norton

When hotel workers and their allies rally Thursday afternoon, they will be confronting a global corporatocracy of hotel bosses that is actively recruiting scabs for a possible strike. Just one example -- check out the website of a scab-herding organization called Talent Tree:

Premier San Francisco Hotel is now hiring
800 people for the following positions:

Housekeepers $15/hr
Bus Persons $11/hr
Bell Persons $9/hr
Door Attendant $9/hr
Sous Chef $21/hr
Switchboard Operators $15/hr
Production Cook $18/hr
Line Cook $18/hr
Guest Services $14/hr

Approximate start date is 9/1/06. Must have a great attitude, customer service experience, and speak English. Three shifts available. Must want to work weekends.

Position Requirements: THERE ARE NO REQUIREMENTS FOR THIS POSITION.
Job Type: TEMPORARY
401k Provided: NO
Medical/Health Benefits Provided: NO
Dental Benefits Provided: NO

Contact Name: Jerome Imhoff
Email: jerome.imhoff@talenttree.com
Telephone: (415) 391-2333

Don't you just love that part about needing a "great attitude" for a temporary job for which there are "no requirements." Also, no medical benefits, despite the fact that scabs have been known to suffer an injury or two under their trying conditions of employment.

I think the best job is "door attendant" at the glorious salary of $9 per hour. Think how much fun that will be, standing out in the street holding the door for scab guests scurrying through the Local 2 picket lines.

It looks like it could be a hot September in San Francisco, fog or no fog...