Fog City Journal
March 9, 2011

Copyright © 2011 by Marc Norton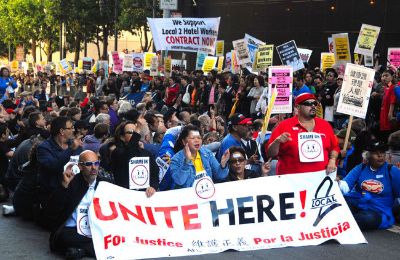 At a time when workers everywhere are either in retreat or fighting desperately to hold the line, UNITE HERE hotel workers have scored a major victory, securing solid gains in wages, benefits and working conditions — in a drawn-out battle against one of finance capital's largest corporate behemoths.

The Blackstone Group, which owns Hilton Hotels, rolled over and gave up the brass ring, agreeing to contract settlements in San Francisco, Chicago and Honolulu that cover nearly 4,000 workers. Blackstone is a private equity company that manages around $100 billion in assets.

Hotel workers have now shown clearly that we can raise the banner of NO CONCESSIONS, fight and win against the biggest of the big. Like the brave workers in Wisconsin and the Midwest, we are standing tall, and intend to stay on our feet through thick and thin.

Here in San Francisco, after an 18-month fight, Hilton agreed to a contract settlement that includes:

> Wage increases, retroactive to August 2009 when the contract expired, a total of $2 more per hour for non-tipped workers.

> Continuation of health care benefits for workers, dependents and retirees, with no increase in monthly payments.

> An increase in pensions to $40 monthly per-year-of-service for those who retire through December 2014.

> A reduction in the workload for room cleaners when they have 10 or more checkouts.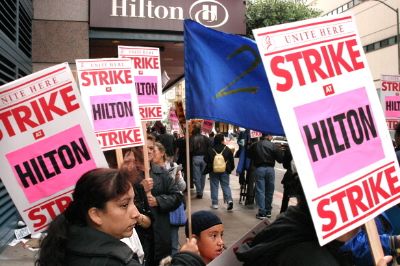 The settlement includes many other gains, including additional recall rights for
laid-off workers, increased vacations for long-term workers, increased contributions to the Legal and Child/Elder Care funds, limiting the use of credit checks in hiring, and stronger successorship protections.

These gains in San Francisco mirror similar gains in Chicago and Honolulu.

Of course, in the words of Mike Casey, President of UNITE HERE Local 2, "This is a watershed moment, but the fight is by no means over. There are still 50 plus hotels that need to come to their senses and settle with us" here in San Francisco. And there are many other hotel bosses around the country that have yet to understand that hotel workers will fight to the finish.

"Management settles when the cost of the fight exceeds the cost of settlement," said Casey. "It is a business decision for them." But it is a matter of solidarity and responsibility to our fellow workers, families and friends that motivates us — and that is why we will win.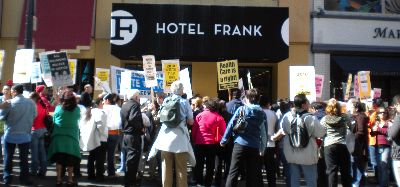 One of those hotels that still needs to learn its lesson is Hotel Frank, a "boutique" hotel where I worked as a bellman for nearly twelve years.
Then, last May, Wells Fargo foreclosed on the property. The new management unilaterally abrogated the Union contract. Subsequently I was summarily fired.

So I take all this somewhat personally. But Hotel Frank workers, like other hotel workers, are a solid bunch. We just don't give up. I will be back to work at the hotel, along with other workers there who have been unfairly fired.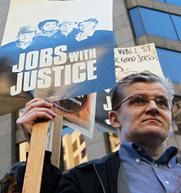 On Saturday, March 19, Local 2 workers will be participating in the National Day of Action on the 8th anniversary of the U.S. invasion of Iraq. Solidarity knows no boundaries, from the Middle East to the Midwest. Join us at the noon rally at UN Plaza (7th and Market Streets). We will march from there to boycotted hotels.

And feel free to join us every Friday at the Hotel Frank picket line, Geary and Mason, from 1pm to 5:30pm.

No concessions!